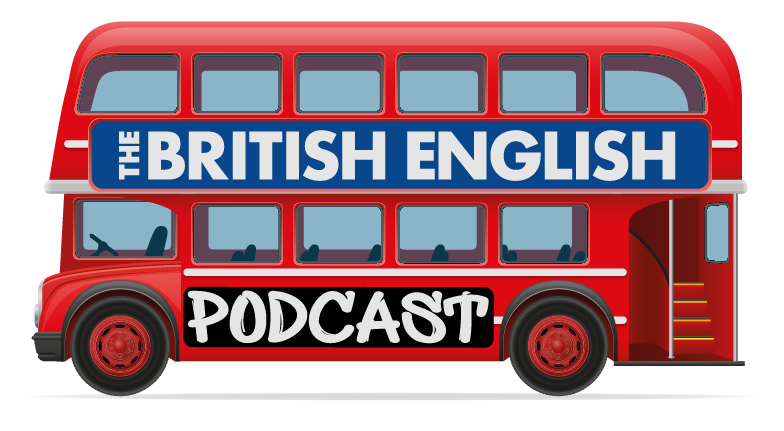 Discover the joy of learning British English by joining The Academy
Are you ready to learn British English the FUN way? At The Academy, we've turned tedious language lessons into an engaging and joyous journey. With our Black Friday offer, unlock a treasure trove of resources that make mastering British English not just possible, but incredibly enjoyable.
Why Choose The Academy?
Diverse Learning Materials:
From vocabulary review lessons and marked writing assignments to online speaking classes and grammar lessons that are genuinely entertaining — we've got it all.
Results-Driven Method: Our members love how they can understand British humour and converse confidently. If you've struggled to keep up in conversations, worried about using outdated slang, or simply want to speak naturally and with confidence — The Academy is your solution.


Community of Learners: Join in with hundreds of members who've found fun in fluency and effectiveness in our methods. With The Academy, you're not just learning — you're enjoying every step of the journey.
MATHEUS
Joined in January 2022
"I would really recommend anyone wanting to improve their english skills to enrol to The academy because you can learn english in a way I've never seen before because when you see an episode you will not only enjoy a real conversation as you will fell like you're into the conversation; really worth every penny."
NERGIS
Joined in January 2022
"
I'm really getting a kick out of Charlie's platform! His videos and voice records make me chuckle. The most fun way to learn British English!

I really appreciate meeting Charlie and the academy. Thank you so much, Charlie, for being yourself and giving such a good platform!
RICCARD
Joined in November 2021
"It is awesome how the tips, the steps and my mindset about the process of learning changed. The methods and techniques included in this challenge are easy and more effective not to mention that most of them don't require time as they become a part in our daily routines. I really recommend it because if you are consistent and follow this challenge, you will be able to reach a high level of English .Thank you Charlie Baxter ."
Frequently asked questions
What exactly do I get with The Academy Membership?
You get unrestricted access to all full-length podcast episodes, complete with vocabulary video lessons, pronunciation practice learning units, grammar lessons, interactive quizzes, writing assignments, transcripts, glossaries, flashcards, weekly speaking classes on Zoom, access to The Language Speaking Partner Program and much more! A truely well rounded and incredibly affordable online learning community for British English enthusiasts!
How is the annual membership different from the monthly?
The annual membership comes with all the monthly perks, plus access to The Language Speaking Partner Program, a Bonus Pronunciation Exercise to help you get your British accent on point. You also get a 14-day money-back guarantee and all of this for a rate that's significantly cheaper than going month-to-month. It's like Christmas, but for language learning!
Yes. Both have ZERO hidden fees. With the monthly membership, you can cancel at any time. The Annual Membership is a one-year commitment but comes with a 14-day money-back guarantee if you change your mind early on.
What's the money-back guarantee all about?
Our Annual Membership option comes with a 14-day money-back guarantee. If you're not chuffed to bits with the content, you can request a full refund within the first 14 days.
Who are the experts featured on the podcast?
Our podcast is a smorgasbord of knowledge! We feature psychologists, linguists, cultural experts, exam prep course creators, and even other podcasters and YouTubers. Plus, we sprinkle in episodes that are essentially a one-man comedy show.
I'm at a lower-intermediate level in English. Is this podcast for me?
Absolutely! Our content is aimed at learners who are at least at a B1 level, so you'll fit right in.
What kinds of topics do you cover?
We delve into British culture, nuances of the English language, pronunciation tricks, and so much more. The goal is to make your language learning journey not just educational, but also delightful.
I've already tried other online English courses. How is this different?
We hear you! Many of our members felt the same way before joining. Our unique approach merges cultural insights, language learning and community which makes the whole process engaging and fun.
What is the difference between 'The Academy Membership' and 'The Premium Podcast Membership'?
The Academy Membership includes everything the premium podcast has and then also has exclusive explainer videos, pronunciation practice audio files, quizzes, weekly group lessons, a language speaking partner program and much much more interactive content.
What currency is the payment in?
£ – British Pound Sterling / Quid 😉
Black Friday Sale is live!
Grab the chance now!
37.5% off today!
GET 135 DAYS FREE ACCESS
Want to learn more about what you get when joining The Academy?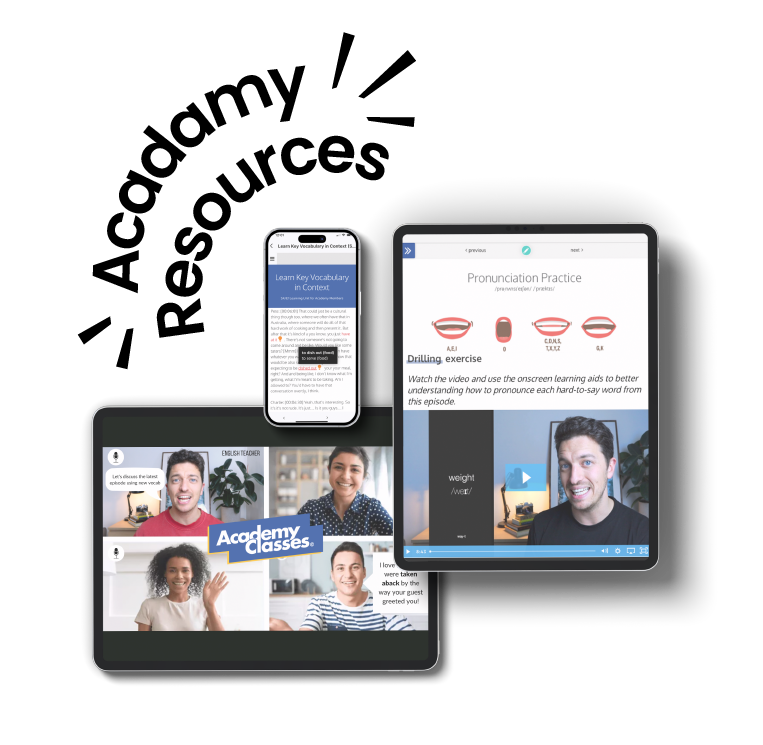 GET THE MOST OUT OF EVERY EPISODE OF THE BRITISH ENGLISH PODCAST
Which membership
fits your needs?
The Premium Podcast
For self sufficient learners who just want the full episode, transcripts, extended glossaries and flashcards!
The Academy
For learners who want the FULL experience with everything the premium podcast has and SO much more!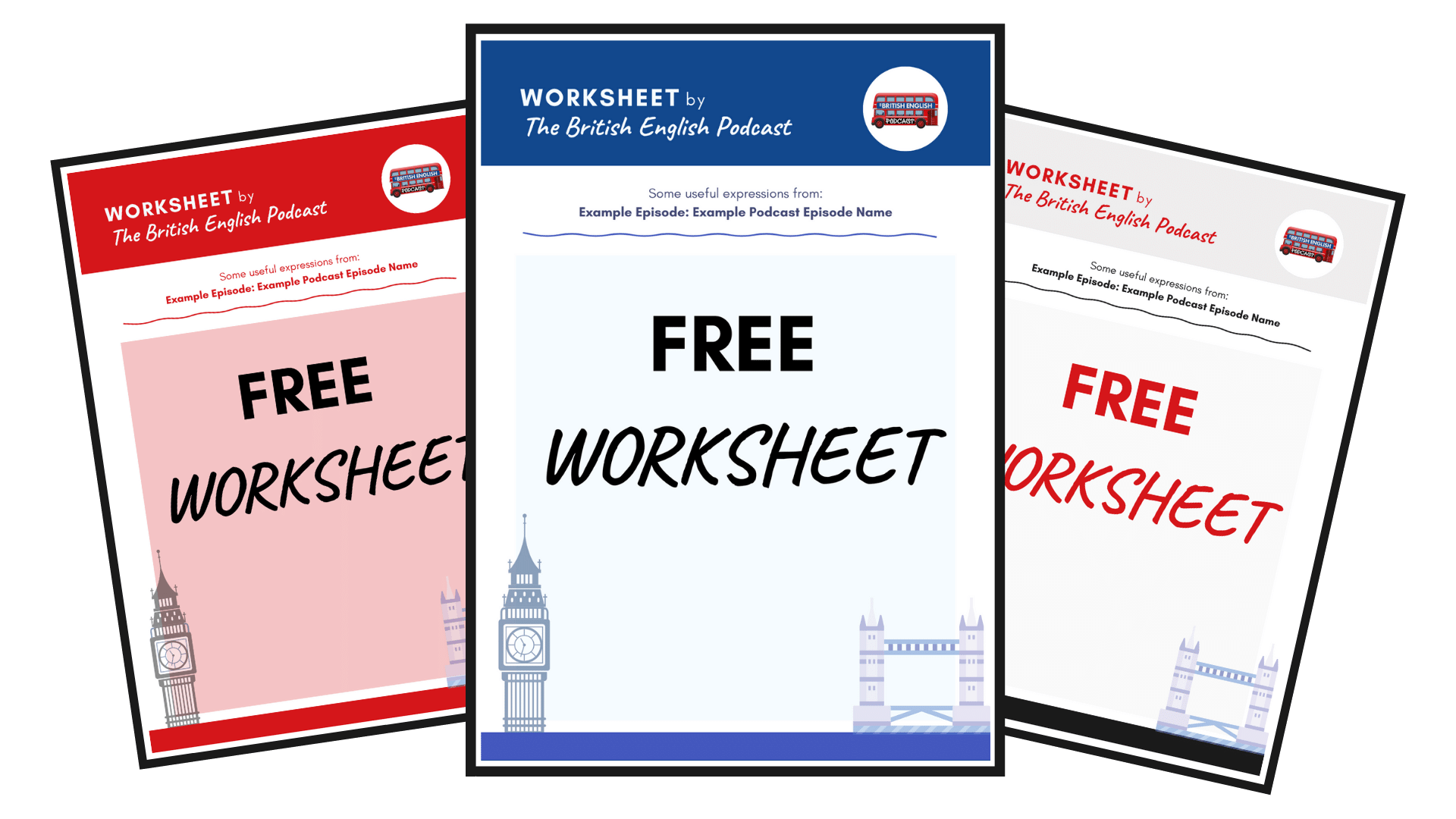 WHERE CAN WE SEND YOU YOUR FREE WORKSHEETS?
Join the newsletter & get the FREE Worksheets as a welcome gift!
Your privacy is our top priority, and we promise to keep your email safe! For more information, please see our
privacy policy
.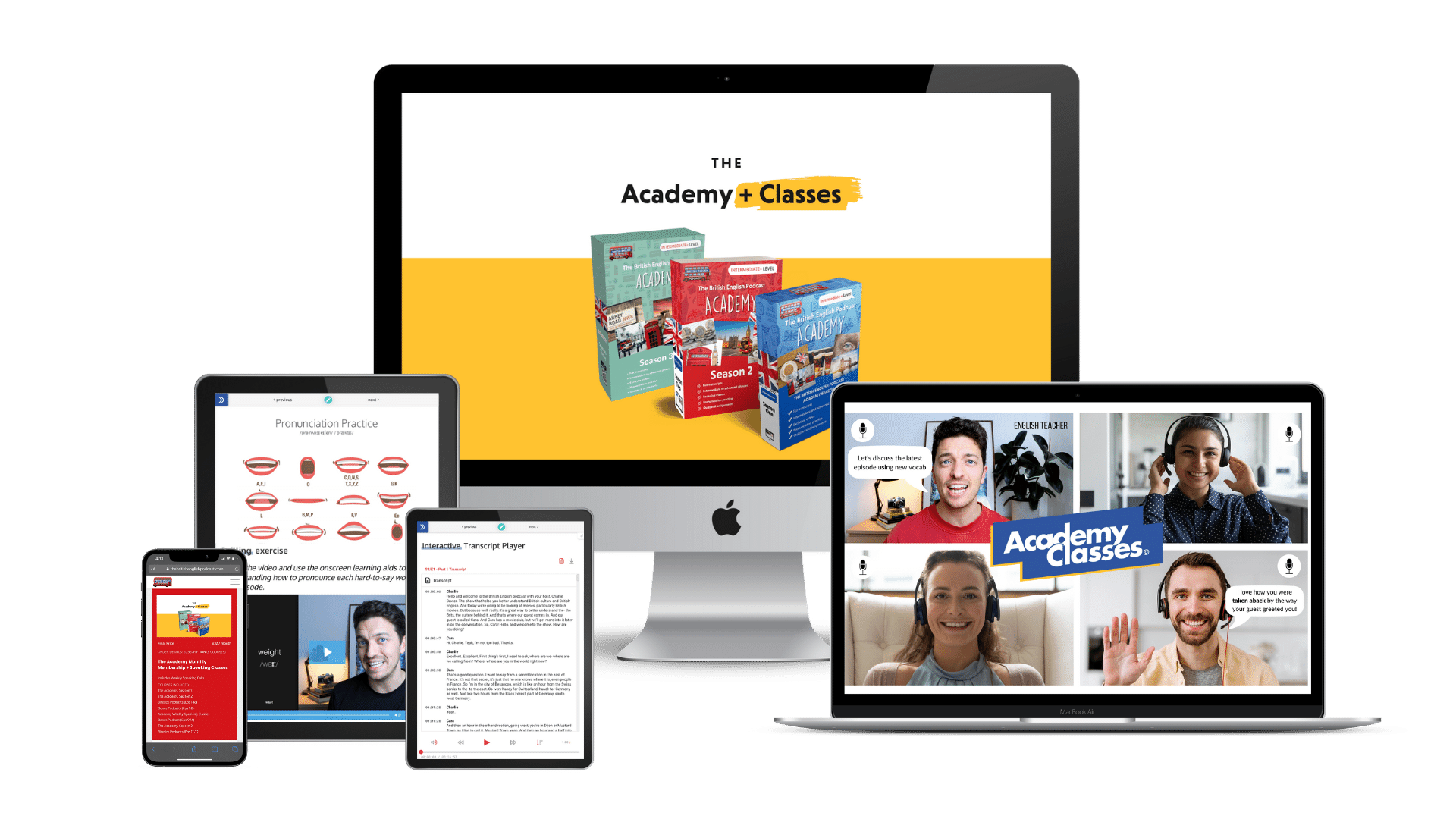 JOIN THE WAITING LIST FOR THE ACADEMY
Join the waiting list to be the first to know when the doors will reopen. Plus you'll get an early bird offer!
You are now on the waiting list!

Your privacy is our top priority, and we promise to keep your email safe! For more information, please see our
privacy policy
.